We provide best quality swiss made injection systems to make eye surgery safer, simpler and more effective and to keep the incision as small as possible. Medicel AG.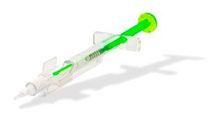 ACCUJECTTM
SAFETY, SIMPLICITY, RELIABILITY...
The new ACCUJECTTM – system represents total reliability for safe and effective lens injections. The compact design with integrated cartridge of the fully single-use ACCUJECTTM system enables a simple, predictable loading and positioning of any lens. This allows the surgeon and O.R. personnel to load any lens in the same simple manner. The ACCUJECTTM system is designed for 1- and 3 piece lenses for incision sizes of sub 2.8 to sub 2.2 mm.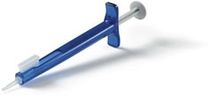 NAVIJECTTM
MAXIMUM EFFICIENCY WITH MAXIMUM SAFETY
The NAVIJECTTMsystem from Medicel represents yet another breakthrough for safe and effective micro-incision cataract surgery.
Complications associated with the shortcomings of other lens injection systems are now a thing of the past. NAVIJECTTM simplifies the loading of the lens, enables smooth and efficient lens injection and ensures the critical process of lens injection safely.
VISCOJECTTM -BIO
BIG IS BEAUTIFUL BUT SMALLER IS BETTER
History was written with the launch of the VISCOJECTTM system. For the first time a 1-piece hydrophilic IOL could be injected safely through an incision of 2.5 mm. Thanks to the "visco-hydraulic soft tip technology" developed by Medicel, the VISCOJECTTM-BIO 1.5 is the only lens delivery system on the market that enables injection of specially design micro incision IOLs through incisions of less than 1.8 mm.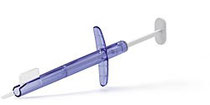 VISCOJECTTM eco

ADVANCED BUT ECONOMICAL
The VISCOJECT-eco is a cost effective solution representing all features of the VISCOJECT system that has changed the world of Micro Incision Cataract Surgery (MICS)! 
The VISCOJECTTM eco system includes the original VISCOJECTTM cartridges which are sterile packed in combination with the VISCOJECTTM eco injector. This low cost solution does not make any compromise on product safety and quality.